Great Expectations
Copestake
It is said that although there are numerous individual properties in London with a greater value, the street with the highest average value of residence is Kensington Palace Gardens. The average was said to be about £31 million but that was a while ago. The highest individual property on the street was valued at around £100m. It should therefore come as no surprise that one gentleman to build a property with that address was one George Moore. Who he? George Moore was born in Mealsgate which history knows only as a station on the Maryport-Carlisle Railway. He became a partner in Copestakes, as Cecil B Tubbs, himself a London based expert in haberdashery, refers to the firm in his memoirs, and subsequently acquired the mansion in Kensington Palace Gardens. George Moore went on to use his fortune for philanthropic purposes. I would like to think he was related to GE Moore the philosopher but have not yet established the connection.
According to an 1865 Commercial Directory the London firm of Copestake, Moore, Crampton and Co were warehousemen for: "lace and sewed muslins, scotch and Manchester goods, cambrics & lawns, crapes, gossamers, velvets, stays, artificial flowers, millinery, baby linen, mantles, outfitting, shawl & haberdashery, umbrellas & parasols" At various times they had premises at 5 Bow Churchyard, London E. C. ;50 Cheapside London E.C.and Bread Street London E.C. The senior partner in the firm was one Sampson Copestake. The firm changed its name to Copestake, Hughes, Crampton & Co. in 1877. At some other  time (still to be established) they were called Copestake, Lindsay, Crampton & Co.
By an improbable leap, we also go down from the City to South Wales. The Panteg Steel Works was started by Sampson Copestake Junior situated in the village of Panteg, adjacent to Sebastopol, whose Working Men's Club I have visited several times and lived to tell the tale, and Griffithstown, in the district of Torfaen, South Wales. The steel works was founded in 1873, and operated for just over 130 years until its closure in 2004. I don't know much about Crampton but I find it impossible to dismiss the idea that he was related to the engineer Crampton whose eponymous design of railway locomotive was briefly adopted by the Maryport and Carlisle amongst others. They were built by the better known locomotive builders such as Stephenson, with a large pair of driving wheels (one axle) aft of the firebox, so reducing restrictions on the size of said driving wheels and allowing speeds of 75mph to be achieved in the days when the ere thought of 75 mph on the road could have had you in Highgatge Cemetery, chokey or Bedlam hospital, whichever came first, and was fairly giddying even for the railways. How did this firm get to be so wealthy? Partly by exercising parsimony to a degree. Underprinting is one of the more arcane interests in the world of philately. Ordinary stamps are printed on the reverse with the owner's mark, to ensure that any unauthorised use of company stationery could be detected.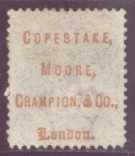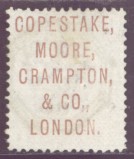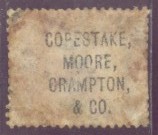 Henry Thomas Tubbs was apprenticed to Copestakes. I guess that he was a premium apprentice and that would have been around 1844-5. His father was a respected tradesman and HTT had been to Highgate School, so he was no pauper. Apprenticeship in such a City warehouse The City was not a prelude to the workhouse. Like every other apprentice of his era he would have been expected to work for twelve or fifteen hours a day for next to nothing, but he would have been learning all the time how to make unprecedented amounts of money in the rag trade, and so it comes as no surprise that he was in business on his own shortly after finishing his apprenticeship, forming his partnership with Joseph Lewis in 1854.